It's that time of the year again and no it's not Christmas, it's Apples new iPhone release time. This year Apple will be unveiling the new iPhone 6 on September 9th in their California Headquarters. After purchasing and using an iPhone 5 for almost 2 years now I'm definitely looking forward to my semi-leap-year upgrade. I loved the taller screen on the iPhone 5 and it was one of my biggest reasons to jump from the iPhone 4 along with really slow speeds and lack of support for apps and updates. My iPhone 5 hasn't showed any signs of slowing down yet, but I do feel it's time to make the jump to newer iPhone and these are my reasons why:
Bigger Screen
Faster Graphics and Processing
Newer Bluetooth Technology
Finger Print Sensor
Supposedly Better Battery
Sapphire Glass
iOS 8
iWatch (rumors)
Coming from the iPhone 5 I obviously will be lacking the finger print scanner and the mid way bridge of processor updates and performance boosting that the iPhone 5s carries. The sapphire glass doesn't mean I won't have a case for my new phone, but it will be nice in unison with the LifeProof Nuud case because I can protect the phone from water and still experience a scratch free open faced case. However, I don't expect LifeProof to have the case ready as soon as the devices launches, neither do I expect to out pre order everyone for my new device so I will be waiting a few months after release to get my new iPhone. I think the few months will also allow for some minor updates by Apple to be pushed in order to fix the bugs that will come along with iOS 8.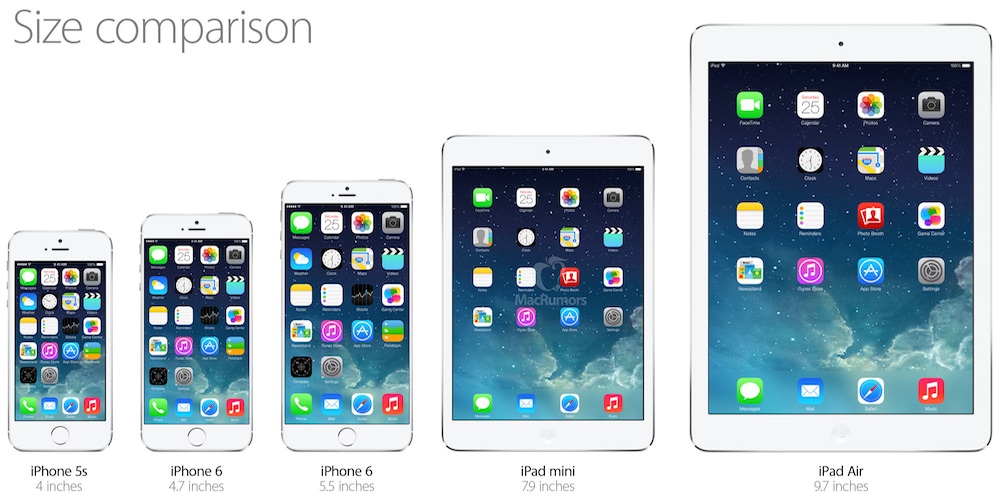 If your an iPhone 5s user I highly recommend that you wait to upgrade until the iPhone 6s comes out. I think the few things like iWatch and Finger Print Sensors you will already enjoy. The iPhone 5s already isn't too slow in my opinion. If you always have to have the newest device, go ahead. I understand! If you have an older mac like my Late 2011 MacBook Pro model, you will not be able to use Apples new Hand Off service since it requires the newest bluetooth technology. It may also be only available in newer iPhone models, so if you don't have a new Mac and that was your selling point, I would wait until you upgrade your Mac too. If your not used to having a gigantic iPhone, I would settle for the 4.7 model. I love the smaller iPhone sizes because they fit in my pocket easily, and there small enough to hold and operate with only one hand. This bigger phones will change that.
If your coming from a jailbroken device, I would also wait to get the iPhone 6 until after the device has been around for a while so that the jailbreak will be released. As always, the first installment of a jailbreak is usually tethered (not permanent and gone when the phone is restarted). If you live off of your Cydia tweaks, definitely hold off. If your however using this new iPhone as a way to get the iPhone 5s marked down, I assuming the new "iPhone 5c" or cheaper equivalent iPhone will have matching hardware to that of the iPhone 5s. With this being said, it may be cheaper to buy an iPhone 5s (and more stylish in my opinion) then a new "iPhone 5c" if they are released with the iPhone 6. If your worried about the longevity of your device and how many more years it will run, I expect the iPhone 5 to see one more year, maybe 2. It's showing no signs of slowing down with the newest operating system currently out (iOS 7) and it supports the current beta of iOS 8. Altogether, I think you can easily decide if the new device is for you.
If your coming from an Android device for the first time because Apple is finally offering a large screen, just remember the difference in the interface and how the device works is largely different then that of an Android. It will be frustrating to get used to. A lot of Android users complain about the lack of customization. If your capable of rooting your Android, your capable of Jailbreaking your iPhone and I see no reason why you can't find a tweak that will help you do whatever it is you want with your new device! For those of you leaving Apple after the update, I recommend getting a Nexus 5 Android phone as I believe it is the flagship of Android devices for many reasons I will discuss in another post some day.